Humans of MUSC: Karoline Bernacki
In this instalment of Humans of MUSC we talk to Karoline "Karo" Bernacki who is studying a Bachelor of Science here at Melbourne University. Currently involved in a coaching capacity due to a serious injury as well as sitting on the MUSC board, Karo explains her unique evolving connection with the club.
Can you introduce yourself please?
My name is Karoline – or Karo as you please – and I'm from Stavanger, Norway. My partner, Fred (who's also heavily involved in the club), dragged me with him to Melbourne to study at the University of Melbourne and oh boy I'm glad he did! I'm currently studying a Bachelor of Science with a major in Electrical Systems in addition to a Diploma in Informatics. My plan is to continue my studies in Electrical Engineering, so I'll stick around in Melbourne for a while.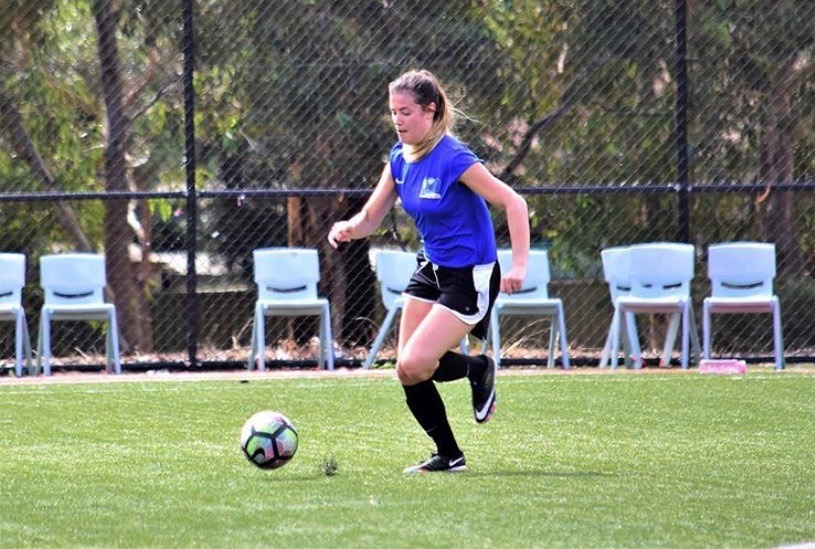 Why did you choose to play at Melbourne University Soccer Club?
As an international student, I figured it was a good idea to get involved in sports and I have played soccer in my younger days, so I was thinking why not try it out. Turned out to be one of the best decisions I've ever made as my life nowadays is constantly surrounded by soccer-related stuff and I absolutely love it.
What do you feel are the main benefits of playing at MUSC?
I love the community. The club has such a great vibe and it supports so many great causes. The players are also super nice and very open. Everyone in the club is there because they just want to run around and kick a ball, and we all support each other. I started playing for MUSC to just have a kick in the week and do something else besides studying, but I quickly realised this club is what makes Melbourne feel like home.
Has there been a favourite season at MUSC, if so why?
I have to say the current season we're in (2019) with State 3 West has been the best season that I've experienced. There is such a great vibe within the team, and everyone is friends with each other. They are smashing it in the games as they are playing for the team's best interests.
To be honest, I feel weird saying this season is my favourite because I'm not actually playing. I'm coaching this year as I had a major injury last season and am still recovering from it. However, I think a reason for this being my favourite season is also because I've learned so much about the coaching side of soccer and the "behind the scenes" of how to improve not only as a player but also as a team.
What about your current involvement in the soccer club?
As mentioned above, I am the co-coach of the women's State 3 West team. However, I am also the women's treasurer and sit on the board alongside the other executives of the club. Other than that, I help where I can and where I am needed.
Has there been a standout coach at MUSC? (and) the best player you have played alongside at MUSC?
I am probably biased here, but Fredrik Hognestad (other coach for the women's State 3 West) has absolutely blown my mind away as a coach. He came in the middle of the season last year with no coaching experience, but lots of eagerness to learn, and managed to switch the negative mindset about coaches in our team. His positivity reflects on the players and he has a clear vision on what he wants the team to be doing. Fred has grown so much since he started last year, and now he has this absolute fabulous spreadsheet with statistics on training attendance, goal scoring points, how many minutes each player got per game and notes about the opposition. I believe this spreadsheet has helped in engaging the players to turn up to training and do their best as they know it would affect their game time if they don't. He has a huge part in why the team has been pushing for the higher places on the ladder. Oh well, I could go on for a long time about how amazing Fred is, but I think you already know that.
Pema Tshering. Oh my god what a legend. She is currently playing for Bhutan's national women's team and with good reason. She is absolutely amazing. I played with her for the first two seasons before I got injured and she went back to Bhutan, and her speed on top was remarkable. You could just send a through-ball up to her and you bet she would reach the ball before it went out and outrun any of the opposition's defenders before putting it beautifully in the net past the keeper. Sometimes she was being too nice by passing(?!) the ball to another player when she was one on one with a defender or a keeper so I had to yell out to her to be "cynical" (I obviously meant clinical, but I was too caught up in the moment). Anyway, she was easy to coach as she always listened. Lastly, in addition to being eager to learn, her great mood and humour increased the positivity amongst other players on the field. Love u P-dawg.
Do you have any particularly memorable experiences relating to your sports/outdoor activities?
I want to say the day I tore my ACL, but it's not a very good memory.
Anyway, I do have another one and that was during my first year of playing for MUSC, where my team (VSL 2017 #neverforget) won the knockout cup on penalties! It was such a nerve-wrecking game, but oh my how fun it was. I barely remember it because my body was filled with adrenaline that day.
How do you prepare for a match on gameday/do you have any quirky pre-match rituals?
It's been a while since I've played a game, but I usually have oatmeal with raspberry jam and cinnamon + a cup of coffee as a last meal before going to the game. Oh, and I also have to pee right before a game to get out the nervousness from my body.
Besides sports, do you have any other hobbies or passions?
Dancing! I started dancing ballet when I was 4 and then evolved to both jazz and modern + a bit of hip hop. I stopped though because I moved away, but I still occasionally have a dance in my apartment or in the shower.
What has been your most memorable goal at your time at MUSC?
I'm bringing up the VSL knockout cup again. We were down 2-1 in second half and I was either playing CM or RW (I can't really remember). Anyway, I got the ball on the right and I saw an opening and just ran with it from halfway. No one managed to stop me! The keeper came out and I literally went past her and passed the ball calmly into the net. 2-2! This goal made us go into extra time and eventually win the final by penalties. I honestly cannot describe the feeling as it is probably the biggest moment of my soccer career.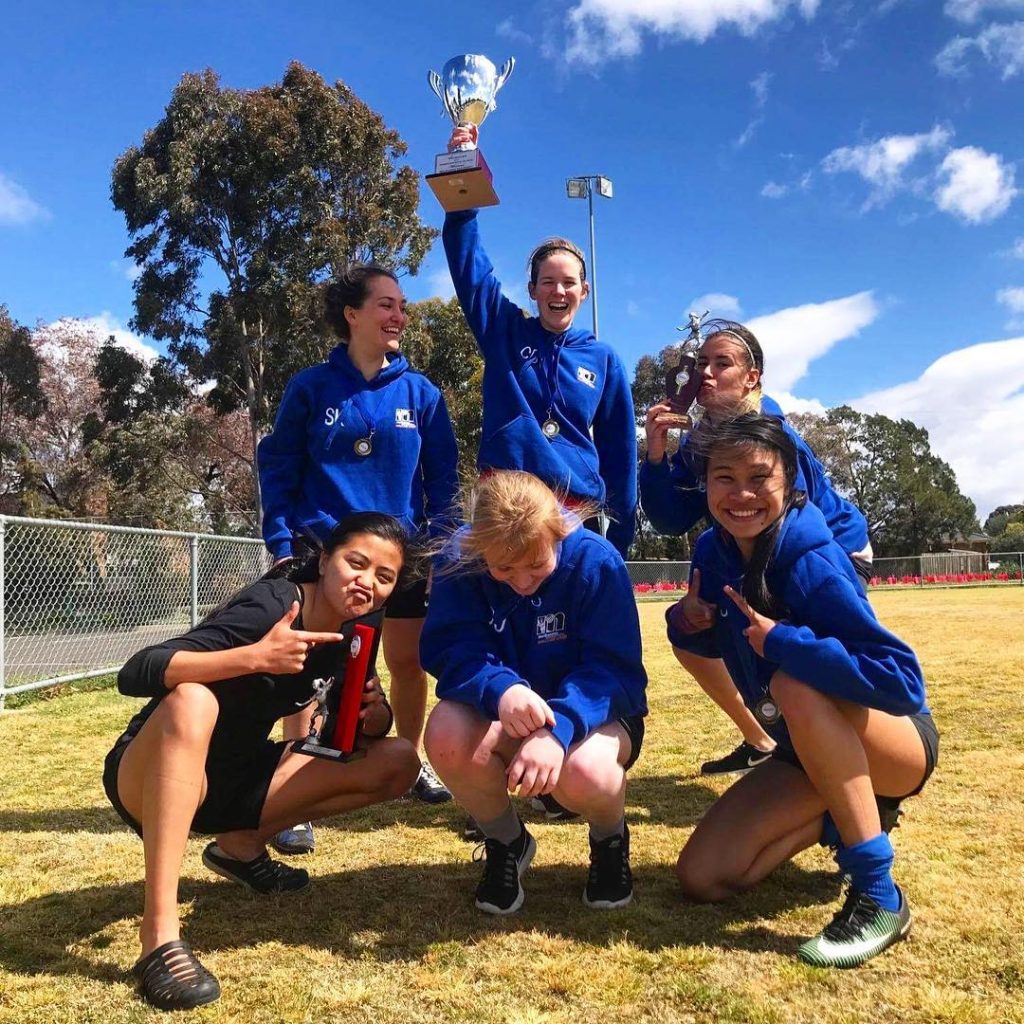 Have you been a part of the Uni Nationals team?
Unfortunately, I have not been a part of the Uni Nationals team. However, I did go last year to cheer on both the men's and women's teams and it looked so much fun. I would definitely recommend it to anyone who is interested to join!
Thanks so much for sharing, Karo. Keep up the good coaching and hopefully see you back on the field playing soon to win more trophies!