Facilities
Melbourne University Soccer Club is based at Princes Park in Carlton North, a suburb of Melbourne, Victoria. MUSC also has access to training facilities on campus at the University of Melbourne.
We acknowledge and pay respect to the Traditional Owners of the lands upon which our club operates.
Princes Park
Just north of the University of Melbourne Parkville campus, Princes Park is a public park managed by the City of Melbourne. Founded in 1947, MUSC has a long history as a tenant of the Princes Park sporting fields and pavilions.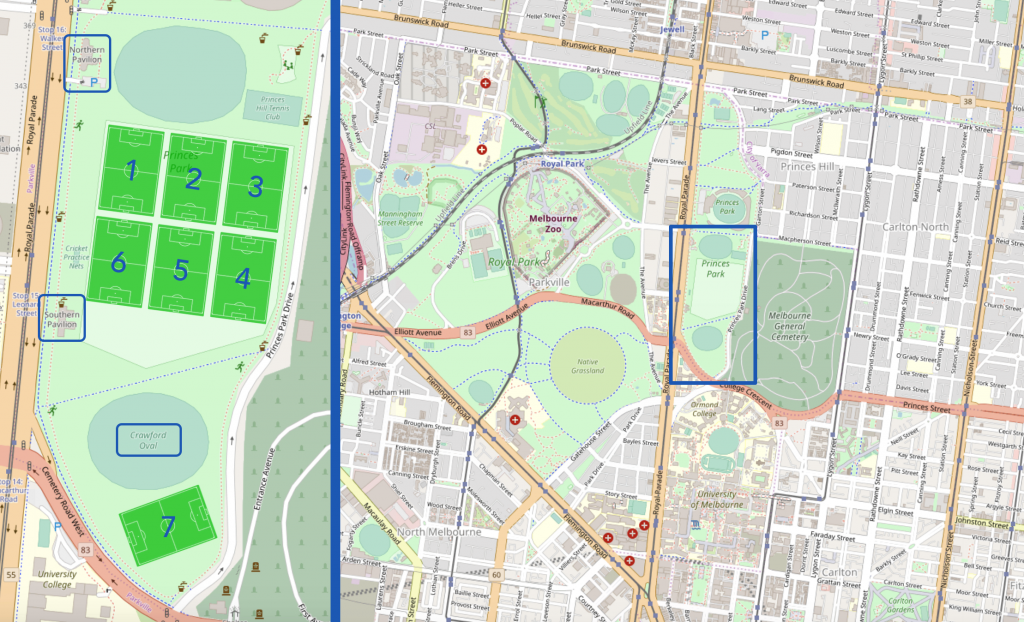 MUSC is the winter tenant of the Northern Sports Pavilion at Princes Park and tenant of the following City of Melbourne sporting fields: Soccer 1 – 6 (Princes Park), Crawford Oval (Princes Park), Soccer 7 (Princes Park), and Ryder Oval (Royal Park). Lawn 7 at Royal Park is also sometimes utilised for pre-season training.

Melbourne University Sport
MUSC makes use of excellent Melbourne University Sport facilities at the University of Melbourne's Parkville campus, including the synthetic hockey pitch, athletics running track, indoor futsal courts, swimming pool, gymnasium and spin room.
The club also benefits from the use of meeting rooms, social spaces and function venues on campus.
https://sport.unimelb.edu.au/court-venue-hire/sport-facilities