Humans of MUSC: Lauren Thompson
In this instalment of Humans of MUSC we talk to Lauren "Lozz" Thompson, the captain and star striker for the Women's State League 1 team last season.
Can you introduce yourself please?
My name is Lozz, if you don't know me I'm the gobby little English one
Why did you choose to play at the Melbourne University Soccer Club
When I moved from the UK to Australia, the first thing I did was start looking for a football club – even before I started looking for a job. Football's always been a huge part of my life so I knew I wanted to be part of a team to stay involved and also to start building a social network over here. I tried out a few clubs, a little bit like goldilocks – some were too serious, some were full of school kids, some were a bit rubbish and this one was just right. 😊
What do you feel are the main benefits of playing at MUSC?
An amazing group of people from all across the world. Not to be disrespectful, but some of the teams we play against are really full of horrors who shout at each other on the pitch and, in turn, get shouted at by their crazy parents & coaches. Here, everyone is respectful and it's a lovely community.
Has there been a favourite season at MUSC? If so, why?
Last year, 2019. I was privileged to captain an unbelievably talented team as we won the league, and went on to clinch the grand final with pretty much the last kick of the game. The season also marked the return of some of my all-time MUSC faves (you know who you are) as well as the retention of many others.
What about your current involvement in the soccer club?
Still hoping to play seniors this year despite my 'mature' status. That's if we are ever allowed to play football again (maybe the new kit will need to be blue haz-mat suits?).
Has there been a standout coach at MUSC? (and) the best player you have played alongside at MUSC?
Without doubt Adam is the best coach we have had in the seniors and I was over the moon to see him back last year. He knows his tactics inside out and, though we have some pretty robust discussions from time to time, he's always respectful and determined to do what he thinks is best for the team. I guess the results speak for themselves last year!
Best player I've played with here is a close call between The Talented Walters (Keryn) at one end of the field, and Pace (Kristina Smith/Peso) at the other. So much class between the 2 of them, it's a joy to watch and be involved in.
Do you have any particularly memorable experiences relating to your sports/outdoor activities?
I mean scoring the last minute winner in the grand final last year has to be up there (albeit from about 50cm out). I'm also proud of what I achieved back in the UK in setting up & running a University Alumni team for me and my fellow graduates. It meant we got to live the dream of our University football days for an extra few years and we managed multiple year on year promotions to reach a respectable league by the end of it.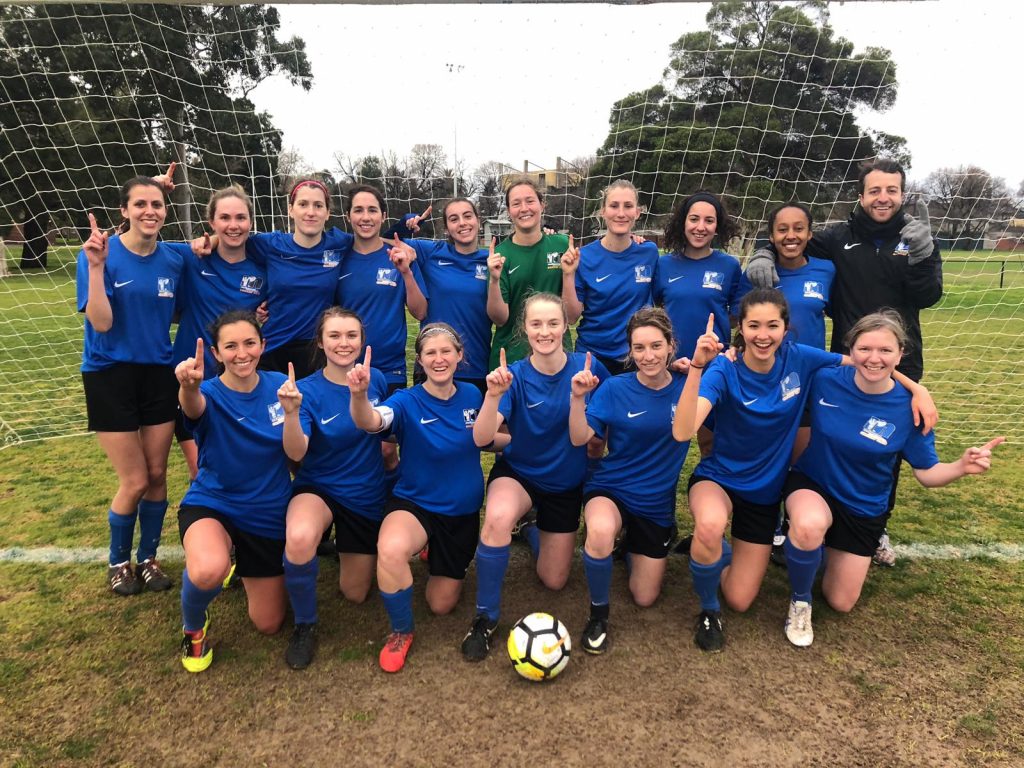 How do you prepare for a match on gameday/do you have any quirky pre-match rituals?
Definitely not. I literally hate the hour before the match, it's the worst hour of the week – I can just never wait to get going!
Besides sports, do you have any other hobbies or passions?
I like running and hiking but I guess that's sort of sports too. Other than that I'm all about the food, craft beer and travelling round the globe a few times a year!
What has been your most memorable goal at your time at MUSC?
We played an awful team one year who had a bunch of parents standing on the side-lines shouting homophobic insults and other such niceties. I scored an absolute scorcher from about 30 yards out. After celebrating like a lunatic, I turned to the ringleader and asked him what he thought of the goal. The look on his face was perfect and exactly the kind of humiliation I wish upon all people like him. Midge, being the absolute hero that she is, proceeded to report the man and the club, bringing them to FFV tribunal & putting them in their place.
Have you been a part of the Unigames/Varsity/World Elite University Football Tournament team? If so, please describe the highlight. Would you recommend it to potential students?
Nope, far too old for that!
Thanks for sharing, Lozz. We are all looking forward to seeing you back on the field and banging in goals soon!