Humans of MUSC: Ili Jakab
In this instalment of Humans of MUSC we talk to long time club member, defensive stopper and Uni Games veteran Ili Jakab.
Can you introduce yourself please:
I'm Ili, also known as Beanz/Beanzy/The loud one
Why did you choose to play at the Melbourne University Soccer Club?
In 2014 I decided to give Uni Games a crack. I had literally the best time of my life and I had never related to a group of girls at football as much as I did with this bunch, having only known them for a few months. I had been playing football since I was very young and had been playing at the top flight in Victoria, but I realised after Uni Games that I actually wasn't enjoying playing anymore at that level because my enjoyment and sense of self-worth was centred in making the starting team and being affirmed by coaches who didn't have my best interests at heart. When I joined MUSC I rediscovered my love for football and also discovered an amazing and talented bunch of players who I still call my friends!
What do you feel are the main benefits of playing at MUSC?
I think MUSC must be one of, if not THE, most accepting and diverse football environment around. Everyone makes you feel comfortable and accepted and there are such interesting people to get to know. I've met people from all over the world and all walks of life. The fact it's a player-run club of course has its challenges (HUGE SHOUT OUT TO THE COMMITTEE YOU'RE DOING AMAZING SWEETIE) but there is a complete lack of the type of self-interested politics that I experienced at other clubs. Also the social environment is amazing!!
Has there been a favourite season at MUSC, if so why?
It's hard to pick just one! Winning the title in 2017 and 2019 were of course amazing experiences. Last year was a different year for me. I spent most of the year coaching the State 1 ressies as I had done my ACL the year before. Personally, this was a really different and rewarding challenge and we won the ressies title so that was amazing! I think that in 2019 our connection between the ressies and seniors in State 1 was better than I'd ever experienced before, and I think that really helped us win both the seniors and ressies titles. On a personal level, I managed to complete my rehab and play in the Seniors Grand Final which was one of the most exciting matches I've ever been involved in – 1-0 down at half time – then won 3-2 in the last few minutes of the game (YES LOZZ!). This was probably my favourite moment at the club so far.
What about your current involvement in the soccer club?
I'm currently playing in the VWPL team and involved in the sponsorship committee. Well, currently I'm actually sitting on my couch avoiding my uni work and attempting to exercise enough to be able to play if we do happen to have a season this year. Just pandemic things ya know?
Has there been a standout coach at MUSC? (and) the best player you have played alongside at MUSC?
Adam for sure! He taught me so much last year and we had some awesome coaching discussions. He was super willing to listen to any advice or feedback me, Nic or the girls had. We didn't always get things right as a coaching group, but I think we were willing to learn from these experiences. Last year we had one style of play and one goal as a whole state 1 squad. You could see the consistency in playing style when girls slotted seamlessly from ressies to seniors. #trusttheprocess
In terms of players it's hard to pick! There has been such an immense amount of talent in this group of players across the years.
The most iconic player – definitely Rachel Bach – a club legend but an understated and incredible centre back.
Canadians Alan and Pace were also incredible talents who bossed the backline. Legs is probably one of the best players I've ever seen in terms of foot skills. And Lozz and Keryn upfront are truly iconic club legends who are goal scoring machines.
Also special shout out to Nic – you challenged me to be a better player and coach and you make the world better for everyone around you!!
Do you have any particularly memorable experiences relating to your sports/outdoor activities?
Funniest game I've ever played was at Uni Games. In our final group game, we were winning by a lot of goals against Flinders Uni who had lost every game by 10+ goals and they hadn't scored the whole tournament. We decided to let them score a goal while we pretended to defend and then right in front of goal their player completely missed. We let them do it again and second time lucky! We all celebrated together, and everyone's subs ran onto the field. The ref was a very good sport about it all!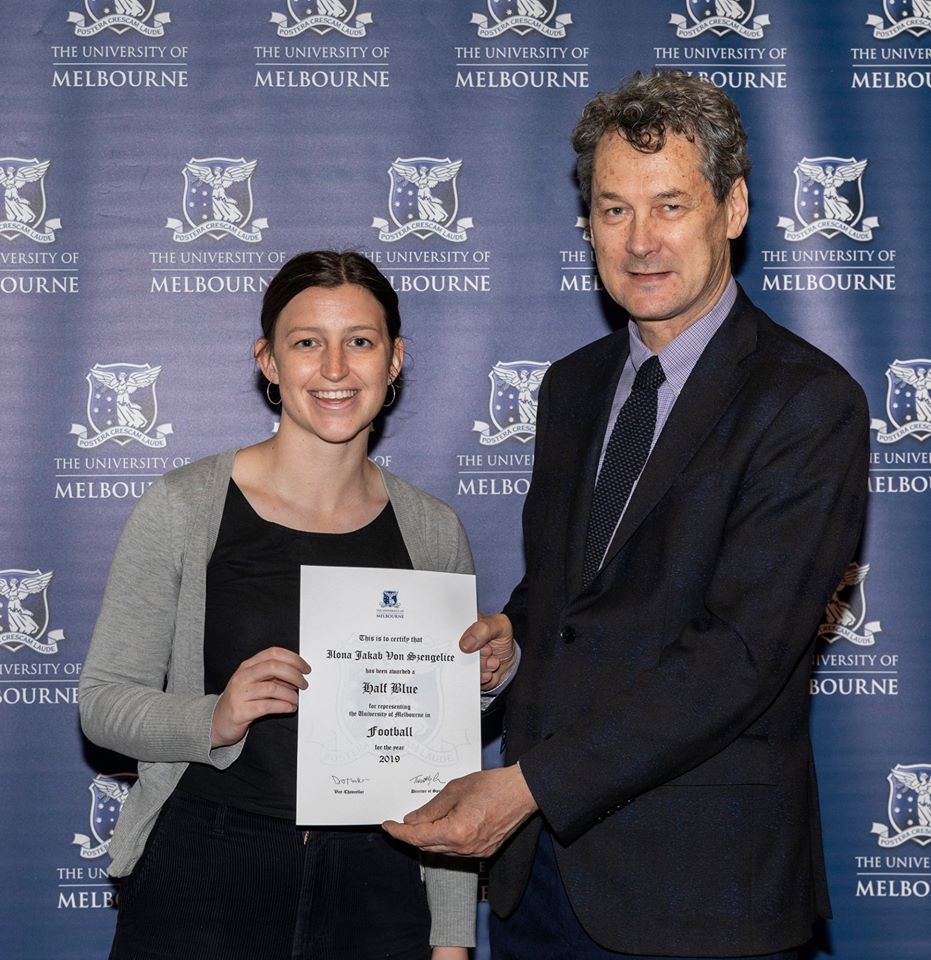 How do you prepare for a match on gameday/do you have any quirky pre-match rituals?
I guess the only thing that could be a pre-match ritual is that at some stage I will probably end up dancing and singing loudly around the change rooms. Is this fun or annoying? I'll let my teammates be the judge!
Besides sports, do you have any other hobbies or passions?
I play futsal too – but I guess that's sport. I'm a house plant fiend. I also cannot express enough how much I love bath bombs. Is dismantling the capitalist patriarchy a hobby?
What has been your most memorable goal at your time at MUSC?
It's been a while since I scored! I think I scored the game winner against Brighton in 2014 (they were 3rd placed and we were 2nd or 1st). I'm much more likely to be setting up a goal these days.
Have you been a part of the Unigames/Varsity/World Elite University Football Tournament team? If so, please describe the highlight. Would you recommend it to potential students?
Pick just one highlight? Yikes. Uni Games is THE BEST experience and everyone who get's the chance should do it!! Helicopters, dead man walking, Rookie night, losing to USyd #traumabutfun, beating Monash #therealunigame, tribunal, hasface twittergram, heat stroke, being the team idiot, making ripper mates for life, #ripmelbas. If you know, you know.
Everyone please send your thoughts and prayers for the 2020 Uni Games to go ahead – I really want to go to Perth, I've never been before!
We can only hope that 2020 Uni Games goes ahead. Thanks for sharing Ili!