MUSC Indigenous Jersey
In MUSC's ongoing commitment to treaty and representation at our club, we have commissioned a gorgeous and meaningful artwork by proud Gunditjmara and Tiwi Islander artist, Kiewa Austin-Rioli.
This artwork will be displayed proudly on a rotating kit, which different teams will be able to wear year-long throughout our season, including during our Indigenous round.
This jersey will be able to be purchased through our club store, with profits from sales going towards funding our First Nations Player Bursary.
MUSC thanks Kiewa for the meaningful artwork, Melbourne University Sport for their support of the project, and This Is Football for their work in designing and producing the jersey.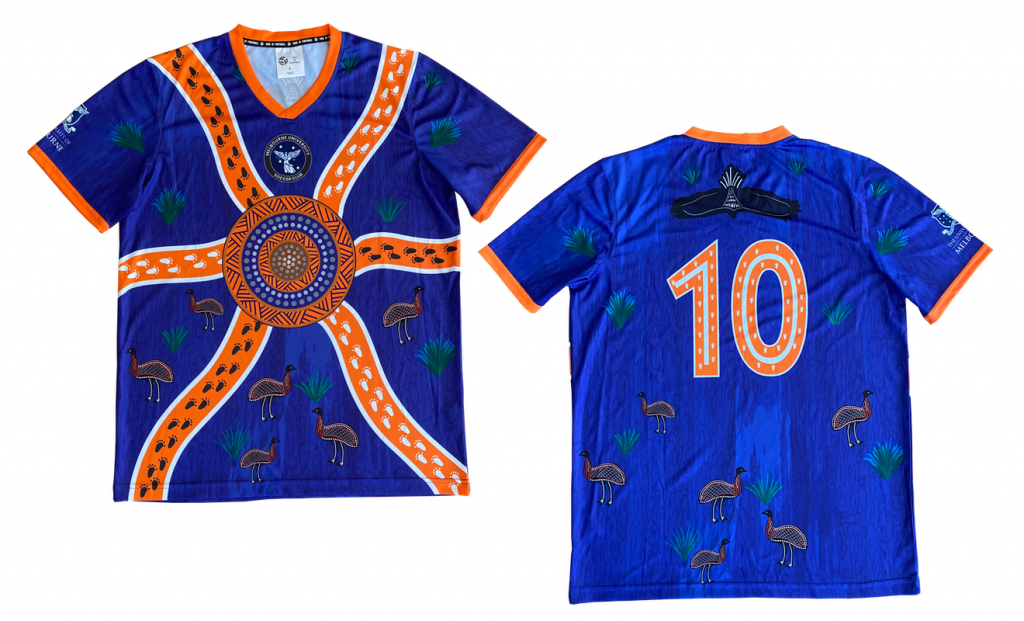 About the artwork
Artist: Kiewa Austin-Rioli
You can check out Kiewa's art at https://sweetwaterart.com.au/ and on Instagram at https://www.instagram.com/sweetwater.art
Read below to hear Kiewa's artwork story:
The circle in the centre of the design is the Melbourne University Soccer club represented as a meeting place as it brings people together to form a community.
The two layers of circles with line work in them represents protection, to show that it is a safe space for all to bring their whole self to the club.
There are six paths leading into the club with footprints coming towards the centre (soccer club) this shows people coming from all walks of life to the club because MUSC is a welcoming and inclusive community with diverse backgrounds.
The background shows the Princes Park ground which is represented by the plants on the artwork.
The wedge tailed eagle (Bunjil) is the creator spirit, we believe that Bunjil created the land that we are on and watches over us. Bunjil is flying over the ground and the club to show that MUSC play on Aboriginal land that Bunjil created and Bunjil is watching over the club.
The Emu is represented because the Emu's legs are among the strongest of any animal. The emu and soccer players have a connection, it is through their strong legs, which helps to keep them grounded and connected to the land.