Humans of MUSC: Philip Aitken
In this instalment of Humans of MUSC we talk to the current Men's Division Treasure, club veteran of over 10 years and scorer of crucial goals, Philip Aitken.
Can you introduce yourself please:
My name is Philip Aitken, I joined the club in 2007 and I am currently Men's Division Treasurer. Since 2007, I have played in a number of teams in both Saturday and Sunday competitions. Most recently I was captain of the State 5 reserve team in 2017 – following which I took 2 seasons off while living in London.
Why did you choose to play at the Melbourne University Soccer Club?
I learned about the club while living in one of the residential colleges at the University. I attended the thirds try-outs led by club legend Drew McMullin and the rest is history.
What do you feel are the main benefits of playing at MUSC?
The opportunities the club provides are second to none. Having grown up outside of Melbourne, the club is a fantastic place to meet people from a range of backgrounds and I have met many of my greatest friends through my time at the club. The volunteer opportunities are also a great way to develop leaderships skills and, in addition to playing, I have been lucky enough to have roles in coaching, on the committee and now as a board member.
Finally, as I get older, I increasingly value the fitness benefits available at the club. The facilities and out of season training programs have come a long way since I joined. 
Has there been a favourite season at MUSC, if so why?
Yes, the 2013 season was a great season for me and the club as a whole. While Harry Gill may disagree, it was probably the greatest season in the history of the club, with both the State 5 seniors and State 3 seniors getting promoted (the State 3 seniors on a technicality) and both reserve teams winning their leagues.
I was part of the team led by Larry Quiroga, that won the State 5 reserves league, which was my first championship with the club. Many of my teammates that year have since gone on to shape the club, including Michael Owen (club President), Marco Palacio (Senior Men's coach), Carlos Lopez (former club Treasurer), Peter Alarcon (former State 5 reserve coach), Michael Bellofiore (former State 5 captain), Theo Paraskevas (current Metro 1 coach), Adam Moor (former speedster) and overseas imports David Araque and Hernan Vidal.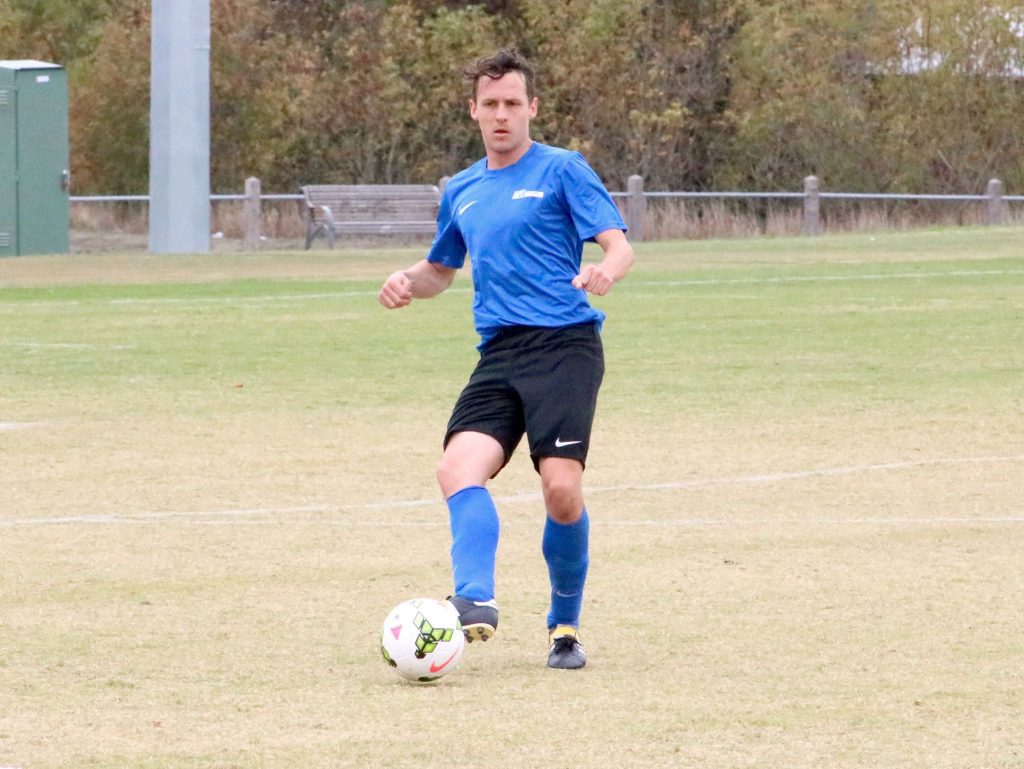 What about your current involvement in the soccer club?
Currently, I am the Men's Division Treasurer. I will also play, although it is not currently clear in what team. I will likely play in the thirds team connected with the State 5 squad – however, if I can improve significantly in a very short period of time, there is a chance that I could potentially push for a place in the reserves. 
Has there been a standout coach at MUSC? (and) the best player you have played alongside at MUSC?
All of my coaches have been very memorable. The coach that I learnt from the most is probably Larry Quiroga, who plucked me from the obscurity of Sunday football and brought me into his 2013 State 5 reserves squad. Unfortunately, Larry was promoted to senior coach the next year and he must have lost my number because, while many of the 2013 reserves squad were promoted to seniors the next year, I remained in the reserves.
While I have played with many great players, 3 stand out.
The first is David Araque. David was a brilliant central midfielder who grew up playing football in Colombia. As a teenager, he played in a team with Radamel Falcao. The story goes that a scout came to watch one of their matches and approached David after the game with an offer to try out for a provincial representative team the next day. Unfortunately, David was busy that day, so he declined and asked if the scout would be prepared to offer the position to Falcao instead. Falcao obviously went on to become one of the great modern day players for Colombia. Unfortunately, David had to leave Melbourne at the end of 2014 and he is now plying his trade in Danish lower divisions, although parts of his meniscus are still scattered around Princes Park.
Next is Hernan 'Chicharron' Vidal. While Chicharron's best playing days were well behind him by the time he arrived at MUSC in his late 30s, his quality was undeniable. With a left foot to rival Messi, he reportedly played under 17's for Chile, although I believe any record of this has been challenging to discover. Unfortunately, his MUSC career was cruelly cut short after Chicharron developed a debilitating cramping syndrome.
Finally, is the current Tony Clayworth medallist, Tom Scudamore. I first met Tom when he was kicking a ball against a wall near the South Lawn on the university campus. I could tell he had talent and invited him down to the club to try-out. He initially wanted to play as a goalkeeper, but, at 5'2'', I advised that he should give playing in the midfield a go. Since then he has grown into one of the premier players at the club over the last 5 years and was recognised last year with the Tony Clayworth Medal, which is awarded to the best and fairest in the top Men's team. 
Do you have any particularly memorable experiences relating to your sports/outdoor activities?
My favourite memories from the club have been playing with great friends and winning leagues. Vote counts after successful seasons are always a highlight – particularly Nikesh Menon's presence in Michael Owen slide shows. Those who know me might also say that I am partial to a cocktail special at the bar.
How do you prepare for a match on gameday/do you have any quirky pre-match rituals?
Its quirky, but I usually try to arrive on time, at the right venue, and with all of my kit.
Besides sports, do you have any other hobbies or passions?
Yes, I am also an amateur photographer.
What has been your most memorable goal at your time at MUSC?
There are so many goals to choose from. I think I would have to pick the goal I scored in a 17-0 rout a few years ago. I received a cross at the edge of the 6 yard box, took one or two touches and the belted it into the middle of the goal using the big toe of my right foot. Despite being 14 goals up at the time, this goal changed the tone of the match and we went on to win comfortably.
Thanks so much for sharing Philip, I'm sure that goal was the one that sealed it! We're looking forward to (hopefully) seeing you out on the pitch again soon.