Humans of MUSC: Cat Hoang
In this special IDAHOBIT edition of Humans of MUSC, we talk to our Pride Ambassador Cat Hoang about her history with the club as well as her role as Pride Ambassador!
Can you introduce yourself please:
Hi MUSC! I'm Cat from state 4 and for IDAHOBIT I'm introducing myself to the club as the Pride Ambassador. My job is to help the club promote LGBTQIA+ inclusion with MU Sport as well as answer any questions you may have about queer identities and its intersections in sports.
This role at MUSC is important to me personally, because playing in the club was integral to me coming into my own as a queer person. Being in a community with so much LGBT visibility offered a sincere feeling of normalcy that I needed as a young adult.
Though, there is still work to be done for us to be more inclusive. I will focus on inclusion for less visible members of the LGBTQUIA+ community such as trans, intersex and gender diverse people. I hope to be accepting, educational as well as give players language to talk about their experiences and be better allies.
Why did you choose to play at the Melbourne University Soccer Club?
I really didn't give it that much thought besides that I needed extrinsic motivation to want to exercise and MUSC was the closest club to MU when I came to Melbourne as an undergrad.
What do you feel are the main benefits of playing at MUSC?
I was living in one of the Melbourne Uni colleges when I joined MUSC. The diverse community in terms of age, jobs and just general life, was amazing for getting out of my college bubble.
Has there been a favourite season at MUSC, if so why?
My favourite season at MUSC was 2018 with S3 North. It was simply the year I bonded the most with my teammates and because of that, the team did consistently well throughout the season. With the exception of when we had Angela the absolute TANK, with whom we did extraordinarily well (if you're reading this Angela we miss you sis). At the same time, Adam had joined the club as our coach and was just so cute and lovely it was hard to not have fun. It was truly unforgettable when he lost a bet to the team that warranted the addition of a very conspicuous tattoo reading "Chaos Queens" on his leg. Funnily enough, we were too naïve foresee that 2018 was the Roaring 20's to the hilariously unsuccessful 2019's S3N Great Depression.
What about your current involvement in the soccer club?
See Q1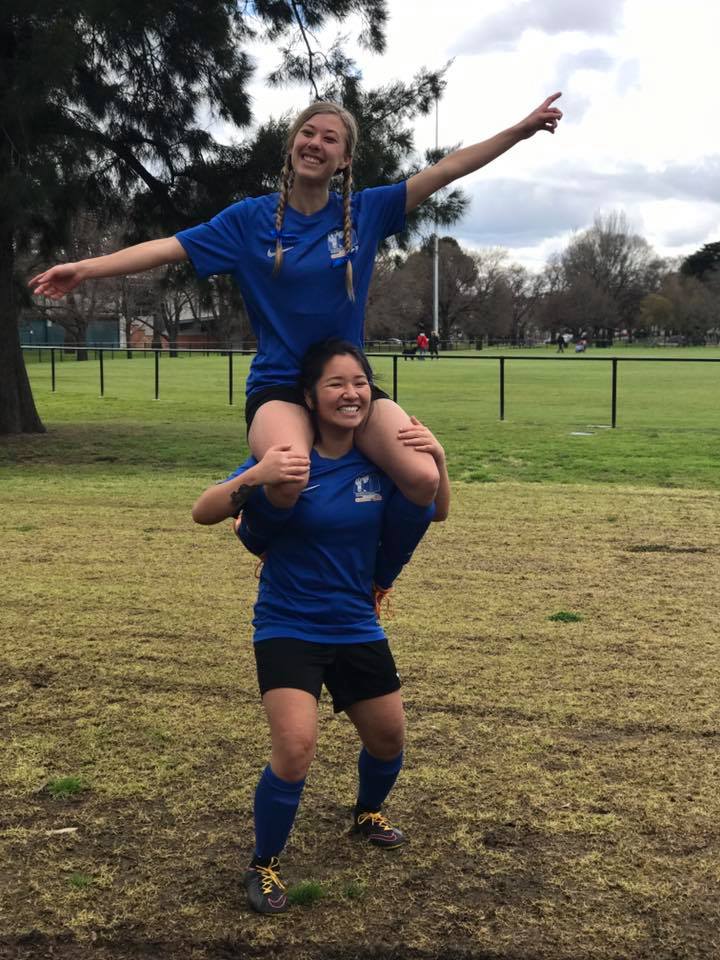 Has there been a standout coach at MUSC? (and) the best player you have played alongside at MUSC?
Ally Wood has to be the standout human that I literally played alongside with for 3 seasons. She was my first friend in Melbourne and call it fate if you will, Ally played right wing and I played right back for every season that we have been at the club. Not only were we the best of friends, we also watched each other grow up and for that I am extremely grateful.
Do you have any particularly memorable experiences relating to your sports/outdoor activities?
Somehow this is also related to 2018, where in the span of 1 month I managed to fracture my wrist and sprain my ankle before the season even started.
How do you prepare for a match on gameday/do you have any quirky pre-match rituals?
(unsolicitly) blast 'Raingurl' by Yaeji
Besides sports, do you have any other hobbies or passions?
Outside of soccer, I am a zoologist and film maker. I spend my iso hours making friends with the neighbourhood animals, tending to my plants and building terrariums. Less wholesomely, I also like techno music, fires and the void of human purpose.
What has been your most memorable goal at your time at MUSC?
My soccer career has been uneventful in terms of goals, I've only ever scored 1 in my 4 years at MUSC. It was in the last or second last game of my first year in 2017, and in in the grand scheme of that season, turned out to be quite important. I'm going to be in admission that I've never really paid attention to which team we played against (I'm sure someone on S4 remembers) but I do recall the squad being compiled of some nasty belligerent teenagers. Regardless, we were playing for 4th place on the table and the score was 0-0 until the 85th minute when the opposition fumbled their defence of a corner kick. The ball spilled to the trusty feet of Lynette, who was immediately swarmed so she trusted me to finish the job. I remember the shot swinging to the corner as if to hit the cross bar but by some witchcraft, it curled into the back of the net.
Thanks for your time Cat! We really appreciate the work you do and wish you all the best!