Humans of MUSC: Dan Ginger
In this edition of Humans of MUSC, we talk to our current Men's State League 4 captain, Dan Ginger. Find out about the time he played against Real Madrid and his unique pre-match habits!
Can you introduce yourself please:
Hi, I'm Dan Ginger, current Captain of the Men's State 4 Seniors squad, where I run around the centre of the park each Saturday trying desperately to avoid using my left foot. I've been with the club for five years now, joining a couple of weeks after landing in Australia as a fresh-faced Masters student.
Why did you choose to play at the Melbourne University Soccer Club?
I came to Melbourne from the UK having never previously set foot in the country, so I wanted to quickly meet a group of likeminded people. Also, I'd played football every season since the age of 6…so there was no way I was missing one!
I came across the club at the University's 0-week fair, and went along to training that same evening. Somehow overcoming the struggles of playing in the Australian summer during pre-season (still not used to it), I joined the ST4 Reserves and then Senior squad that year, and haven't looked back since. The fun atmosphere in the squad combined with the opportunity to play at a competitive level meant it was a no-brainer to sign on.
What do you feel are the main benefits of playing at MUSC?
I enjoy that we have a great balance across the club between competitive football and football for fun. There is a squad for everyone at MUSC, which means there is a diverse collective of people. Similarly, we attract people from all over the world – so its easy to fit in and feel welcomed when you join the club. I've made some great friends through MUSC and it's a social community I really value.
The second obvious benefit is that it encourages me to get out of work at a decent time and stay in shape!
Has there been a favourite season at MUSC, if so why?
Probably last year, 2019. Ultimately, we narrowly missed out on promotion, but it was a season in which we saw a lot of the hard work and preparation in the years' prior start to bear fruit. We started winning tight games where we would have crumbled the season before, and we had some memorable social events including road trips and FIFA nights where we were able to come together as a team.  It's a season that has set a really strong foundation for our squad and will hopefully be the platform for a promotion in 2020!
What about your current involvement in the soccer club?
Currently, I play in the Men's State 4 Seniors team. I'm honoured and privileged to be Captain of the squad, which is both an excellent group of people and contains some exceptional footballers!
Alongside playing, I've been involved with some of the club's committees, including Partnerships & Grants this season.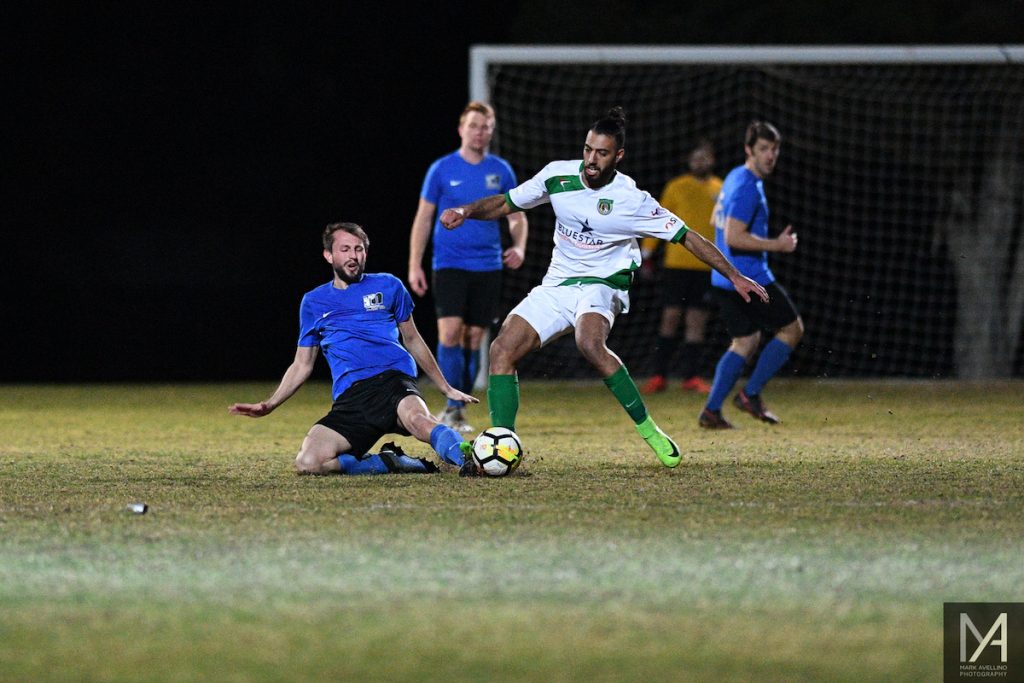 Has there been a standout coach at MUSC? (and) the best player you have played alongside at MUSC?
I've been with Marco Palacio (Papi) for three or four years now, and his coaching has been a key reason why I've enjoyed my time at the club so much. Supported by fantastic coaches such as George, John, Drew and Theo over the years, Marco has shown faith in my skills and invested his time to improve me as a player. We have some great chats and debates about football and life, and he's created a tight-knit atmosphere in the squad that helps us both on and off the pitch.
I've also had the opportunity to play with some quality players in my time with MUSC. Luis Gonzalez was a standout in 2018, with goals from all angles and seemingly at will. There's been a number of club legends that I've been fortunate to line-up alongside too – lots to name but teammates like Marco Sani, Kerry Robinson, Bell, Micky Owen and others have consistently given their all for the club.
Do you have any particularly memorable experiences relating to your sports/outdoor activities?
A few years back now, but I had the opportunity to play in a University grudge-match at Craven Cottage (Fulham FC). 2,000-3,000 turned up for the game, and though we lost on penalties, it was an amazing experience and the loss remains a major motivation for me every time I step out on a football pitch.
A second memorable experience was when I played against Real Madrid's Youth team at their training ground. Hosting us at a Champion's League game at the Bernabeu the night before, their U17's squad went on the hammer us 11-1. The scenes when we scored at about 9-0 down were a bit embarrassing on reflection.
How do you prepare for a match on gameday/do you have any quirky pre-match rituals?
I usually have eggs on toast, grab a coffee en-route, and then sink a Powerade during the warm-up. I'm a bit of a creature of habit, so try not to deviate too much.
A little quirk I have is that I tend to wear two pairs of shorts during the warm-up. Never quite figured out why, but maybe something to do with growing up playing in frost and snow. I also put my right shin-pad, sock and boot on before I do my left. Again, can't explain why!
Besides sports, do you have any other hobbies or passions?
Football definitely takes up most of my attention, but I'm a big fan of travel and learning about different places/cultures – I'm always planning my next trip and im lucky enough to work in the trade/export space which im passionate about. I also enjoy trying new foods, playing other sports and following my teams, Blackpool FC and Melbourne Victory.
What has been your most memorable goal at your time at MUSC?
Two goals particularly stand out to me – one for the importance of the match I scored in, and the other for comedy.
Last year, with a chance of promotion still alive, we played away against top-of-the-table rivals Surf Coast. At their windy ground, with a local referee trying his best to change the result, and a bit of a crowd, we were 3-2 up but against the ropes. Our left winger burst down the line with the ball, but everyone was too tired in the 85th minute to make a dash for the box. I somehow mustered up some energy, got in-front of a defender, and slid into the path of his cross. Celebrating in front of the locals was a season highlight for me.
The second goal was from the 2015 season. I'd scored a couple of free-kicks that year and fancied one we got in a game at Princes Park just outside the box. My good friend Kerry sprinted up to me demanding the ball, which I refused, and as he turned back he said to me something along the lines of 'Why can't I take it? You better score'. I stuck it top corner and cheekily responded to him with 'that's why'. He's never let me live it down… (rightly so!)
Have you been a part of the Unigames/Varsity/World Elite University Football Tournament team? If so, please describe the highlight. Would you recommend it to potential students?
Sadly I didn't get the chance to be involved myself, but a surreal moment during the World Elite tournament a few years ago was when one of my old team-mates from Oxford messaged me in the middle of the night. Attached was a photo of him with some guys from MUSC – they were at a bar together in China, realised they knew me, and were playing each other a few days later!